Watch this Video to Meet Our Seminarians

A Seminarian's Journey
We are grateful for all who are preparing for religious life, particularly for our seminarians preparing for the priesthood in the Diocese of Gaylord. Each of us is invited to pray for these young men and financially support them in their formation. 
A seminarian's journey is long and very demanding. Preparation typically requires at least eight years of education beyond high school, including a college degree followed by four or more years of theological study at a seminary. In addition to the academic and spiritual demands, a seminarian has significant financial considerations. The average annual cost for tuition, books, room and board and health insurance per seminarian is approximately $40,000 per year. Without the financial and prayerful support of parishioners, many seminarians would find it impossible to pursue their vocation.
To help offset these expenses for our seminarians, a special collection is taken up each August, as we remember St. John Vianney, patron saint of priests. Donations to the Seminarian Education Fund provides tuition, books, room and board, and health insurance for our future diocesan priests. All are invited to give to this special fund each August, and throughout the year, to provide for the education and formation of our diocesan seminarians.
Thank you for supporting our future clergy through prayer and financial gifts!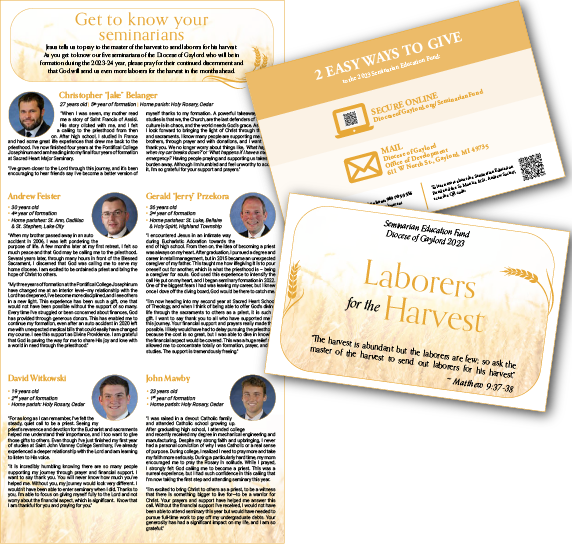 FAQs
How can I make a gift to the 2023 Seminarian Education Fund?
Online: Credit/debit card or Electronic Fund Transfer at DioceseofGaylord.org/make-a-gift
Check or money order: Payable to the Diocese of Gaylord, 611 W North St, Gaylord, MI 49735.
By phone: Contact Kelly Lauster at 989-705-3556.
Do you accept other gift types like stock, a Qualified Charitable Distribution from my IRA, or a matching gift from my employer?
Wire transfer: Contact development@dioceseofgaylord.org or 989-705-3555 for transfer instructions. 
Gift of securities: Contact development@dioceseofgaylord.org or 989-705-3555 for transfer instructions. 
Matching gift: Contact your employer to see if the diocese qualifies to receive matching gift funds.
IRA contribution: Contact your plan holder.
Is my gift tax deductible?
Yes, the diocese's EIN is 38-1960458.
What other ways can I support our seminarians?
Click here for more information about about vocations in the Diocese of Gaylord. Thank you again for your generosity!